Who Couldn't Benefit from Home Organization?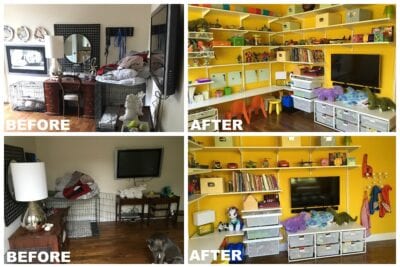 Managing a home in today's busy world can be a challenge. There always seems to be more coming in than going out. Shoes, toys, clothes and other personal items collect quickly and if you don't have a good system clutter ensues. Your home should be a place that welcomes you and allows you to relax and spend quality time with your family. If you lack good organization systems for the items in your home and life, the relaxing home you wish for can easily become a place of stress and overwhelm.
More Time For You offers solutions to get rid of the clutter once and for all from every room in your home; whether it's your entryway, kids' rooms, kitchen/pantry, closets, home office, garage, or storage space. It's not just about cleaning up, it's about creating systems that allow you to find what you need when you need it. The steps below are an outline of how a home organization project goes:
Complimentary Phone Consultation
Is it your garage, your kids' rooms, your entryway? Maybe you're not sure what the biggest problem is. I ask a lot of questions about you, your family members, your organization style, and your budget. I can then help you get some clarity on where to start and how More Time For You can add value to the process.
Schedule a Video Chat or Send Photos/Video

I spend 20-30 minutes learning about your cluttered spaces.

This is a complimentary service where we walk through of all the spaces in your home together in order for me to understand how each of them function. Seeing the entire picture makes it easier for me to offer long term solutions that work. I then provide a detailed explanation of how we would address your particular organizing challenges and give you a rough estimate of the time/cost involved for your project(s). After the consultation, I will provide you with a written proposal of the projects and their estimated cost(s). In some cases, such as small spaces or a garage, photos or a video is sufficient, but video chat is preferred.
How Do You Want to Work with Us
Choose the right option for you.

Full Service
More Time For You will do all the sorting, purging, and organizing with minimal involvement from you. We'll do a presort of the items in a space, you let us know what to keep or get rid of, then we set-up a decluttered and organized space. We also take away all the donations, trash, and recycling. Our end goal is to create an organization system that works for you and your family. Most projects last 6-8 hours. (*Smaller spaces may take less time, and larger spaces like a garage may require a second day.) Doesn't that sound fantastic!
OR
DIY
If you're unsure if working with a professional organizer is right for you, then this option is available. We do a video walk through of your entire home. I look at what areas are functioning well and what spaces could use an organization makeover. You then receive a written action plan of recommendations to implement yourself. No more procrastinating as to where to start. You get a plan and a path!
Additional Sessions
Most spaces take anywhere from 1-3 sessions depending on the level of clutter. After our first session I can give you an idea of the number of additional sessions needed and the cost involved.
Containers & Built In Solutions
I can purchase bins and containers that work with your space and budget. If you need more complex solutions like a closet build-out or garage shelving, I work with many local companies that have the right product for your space. I will manage the project or connect you with them directly to get you the organization solution you need.
Donations
If donateable items stay in your space, they're likely to creep back in, which is just what you don't want. At the end of each organizing session I can take donations or load them directly into your car for drop off.
Maintenance
Everybody needs help from time to time, and that's why I do what I do! More Time For You offers maintenance packages for clients who need a reboot monthly or quarterly. It's a great way to make sure your space stays organized and continues to work for your family.