Who Couldn't Benefit from Home Organization?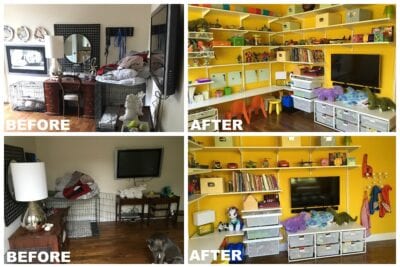 Managing a home in today's busy world can be a challenge.  There always seems to be more coming in than going out.  Shoes, toys, clothes and other personal items collect quickly and if you don't have a good system clutter ensues.  Your home should be a place that welcomes you and allows you to relax and spend quality time with your family.  If you lack good organization systems for the items in your home and life, the relaxing home you wish for can easily become a place of stress and overwhelm.
More Time For You offers solutions to get rid of the clutter once and for all from every room in your home; whether it's your entryway, kids' rooms, kitchen/pantry, closets, home office, garage, or storage space. It's not just about cleaning up, it's about creating systems that allow you to find what you need when you need it. The steps below are an outline of how a home organization project goes:
Phone Consultation
I spend 20-30 minutes learning about your cluttered spaces.
Is it your garage, your kids' rooms, your entryway? Maybe you're not sure what the biggest problem is. I ask a lot of questions about you, your family members, your organization style, and your budget. I can then help you get some clarity on where to start and how More Time For You can add value to the process.
Schedule a Home Audit or 3-hour session

Choose the right option for you.

Home Audit
If you're unsure if working with a professional organizer is right for you, then this is the best place to start. During the home audit you and I do a walk through of your entire home. I look at what areas are functioning well and what spaces could use an organization makeover. You then receive a written action plan of recommendations to implement yourself (for those of you who are the DIY type) or you can schedule the necessary organizing sessions to get the job done. No more procrastinating as to where to start. You get a plan and a path.
3-hour Session
Organizing a space takes time and commitment. Starting with a minimum 3-hour session allows us to make an impact on a space without overwhelming you. During that session I will do a walk through of your home in order to understand how it functions. Maybe the clutter in your entryway is a result of not having a designated spot for each family member to drop their stuff. Or, perhaps your cluttered playroom is a result of too much stuff and some items need to donated or distributed to your kids rooms or other areas of the home. Having an understanding of the entire space makes it easier to offer long term solutions that work. After the initial walk through we begin sorting through the clutter in the area that's causing you the most problem with the goal of creating an organization system that works for you and your family.
Let Us Do The Work For You
If you are comfortable with letting More Time For You do the sorting and purging with minimal involvement from you, We can finish most projects in 4-5 hours. We'll do a presort of the items in a space, you let us know what to keep or get rid of, then you return to a decluttered and organized space. Doesn't that sound fantastic! (*Smaller spaces are done by Lori alone, and larger spaces may require an organizing assistant.)
Additional Sessions
Most spaces take anywhere from 1-3 sessions depending on the level of clutter. After our first session I can give you an idea of the number of additional sessions needed and the cost involved.
Containers & Built In Solutions
I can purchase bins and containers that work with your space and budget. If you need more complex solutions like a closet build-out or garage shelving, I work with many local companies that have the right product for your space. I will manage the project or connect you with them directly to get you the organization solution you need.
Donations
If donateable items stay in your space, they're likely to creep back in, which is just what you don't want. At the end of each organizing session I can take donations or load them directly into your car for drop off.
Maintenance
Everybody needs help from time to time, and that's why I do what I do! More Time For You offers maintenance packages for clients who need a reboot monthly or quarterly. It's a great way to make sure your space stays organized and continues to work for your family.
When providing on-site organizing services in your home we take the safety of you and your family, as well as that of our crew members, very seriously. Given these unique times we have implemented the following Safety Protocols.
MTFY Crew will:
Be symptom free at work
Sanitize hands before entering and upon departing your home
Wear masks at all times while in your home
Wear gloves at all times while in your home
Disinfect bathroom fixtures (toilet seat, toilet tank, sink, doorknob, etc) after use
Disinfect the work space before leaving your home
Expectation of MTFY clients:
Follow CDC stay home guidelines for symptoms and exposure
Reschedule your appointment if anyone in your home is sick or symptomatic
Attest that no one in your home has had any COVID-19 symptoms in the last 7 days
Social distance at least 6' from our MTFY crew while in your home
Wear masks during all interactions with MTFY crew
We hope this offers you some level of comfort of how seriously we are taking the safety and health of the MTFY crew as well as that of our clients. Contact Us today to assess your project and get you started on the path to a more organized life.