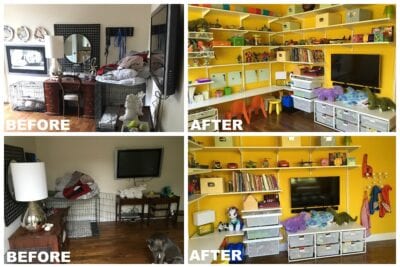 Given the shelter in place ordinance issued for the surrounding community, your home is where you're spending a majority of your day. You're likely working from home, your kids' are attending school from home, and you're trying to get through this challenging time together. In order to create an environment conducive to this new norm, it's a great time for you to tackle some of those organizing projects you never seem to have time for. That may seem overwhelming, but what if you could have the advice and support of an expert? Well you can through More Time For You virtual organizing services! You get the same coaching, guidance, and support you'd get if we were side-by-side, but in a way that supports social distancing.
Projects that are good for virtual organizing are divided between solo projects and family projects. Solo projects include closets, home office, laundry rooms, bathrooms, and pantries. Larger projects require family help and buy-in and include kitchens, playrooms, and kids' bedrooms. The steps below are an outline of how a virtual organizing project goes:
Complimentary Phone Consultation
This is where everything starts. It allows me to get a better understanding of your project and what you are looking for. I will ask many questions related to the project so that I can explain the approach and how we can get you your desired result. Depending on the space, I can also give you some idea of the time/cost involved.
Complimentary Virtual Assessment
This can be done in addition to or instead of a phone consultation. We will connect via Facetime or Zoom and you will walk through your space(s) so I can better understand the project and supply an estimate of time/cost.
Supplies Needed
I will try to work with what you have on hand, but as long as things continue to ship, I will supply you with a list of containers and/or organizing supplies to  purchase online.
Virtual Session(s)
We set up a video call through Zoom. We confirm you have supplies on hand and I get introduced to family members who will be involved in the project. I then give you a set of instructions for things to do first (sorting, creating piles of like items, etc.). You get minutes or hours to complete those steps, depending on what they are, and we make a plan to connect again later at the time designated. Or, I stay on the call to help you make decisions if needed. After you complete the first round of instructions, we re-connect and I give you the next set of instructions and we repeat the process until the project is done.
Timing
Some projects can be completed in a few hours of your time. Others may need to be divided in chunks over days. If family members are involved, it's helpful to invest two to four hours at a time to make a true impact on a space.