I'm pretty sure you'd never equate the phrase, "Go Big or Go Home!" with office organization, but it does apply if your goal is to maximize space.  If you want to Go Big, then you need to Go Up i.e. make the best use of your vertical space!  For many people, the more horizontal surface you give them, the more clutter it invites.  What starts as a clear desk or countertop easily becomes a place to pile papers and other personal items.  These spaces become eyesores and makes finding what you need when you need it a bit of treasure hunt.  Below are some of my favorite products to maximize the vertical space in your office:
Magazine Boxes – Boxes are great for holding catalogues, directories, magazines and more.  They can also be used in place of a traditional horizontal inbox to collect bills, mail, forms, and other information before you can process it.  That said your inbox is not a file cabinet, it's temporary holding spot that needs to be addressed on a regular basis.
Vertical File Folders – Store documents the way you read them — Vertically.  Not only do vertical file folders offer a unique solution for storing your documents, but they also allow you to easily find your files in backpacks and computer bags.  If you need to store these in a traditional file cabinet or file holder they even have a horizontal tab for easy identification.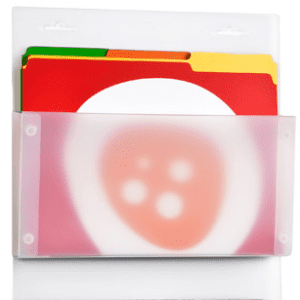 Wall Pockets – Notepads, current project files, and items to read can get buried on a messy desk.  These wall pockets can serve as storage for items you need within easy reach.  I also like the translucent aspect that allows you to see what's inside.
Urbio Magentic Modular Wall System – One stop shopping to get all your desk clutter up and out of the way.  You can store pens, notepads, file folders, reading supplies, your glasses, and more.  I love the clean look and modular options this magnetic board has to offer.
Desktop File Holder – Your current and active project files should be stored separately from your reference files.  A desktop file holder is a great solution to keep your active project files within easy reach.  Place it at the corner of your desk just behind your computer.  Reference files, which are accessed less frequently, can be place in a traditional file cabinet close by or across the room.
Incline Sorter – Similar to a desktop file holder to store your current and active project files, but on an incline.  You can easily see individual files without having to flip through each one to find what you need.
Photo of Urbio from Container Store