As much as you'd like to get organized, it's so easy to make excuses. "I'm too busy", "It's so overwhelming, where do I begin?", or "I'd rather take a nap, go for a run, or go to the dentist:-)"  Sometimes you need a little inspiration to motivate you.  Sure, you can look at a Pottery Barn catalog and dream of an uncluttered space that feels inviting, relaxing, and functional.  Or peruse Pinterest for beautiful homes that are clutter free and have everything in its place.  But guess what, "This is real life, and no one can live like that all the time."  Below I share with you some Before and After photos of real client spaces.  Perhaps you'll be inspired to tackle your own organizing project, or maybe you'll feel better knowing that others suffer similar organizational challenges as you.  They've found solutions, so perhaps you can too!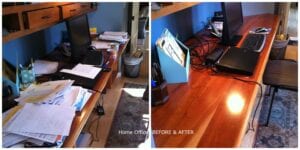 The client purged a lot of the paper and filed what was worth keeping.  She moved her current projects to the light blue file holder so they were within easy reach.  All reference materials were moved to a another file cabinet and filed in alpha order for easy access.  Her desk became the clear space she needed so she could get her work done without distraction.  Project Time:  3 hours.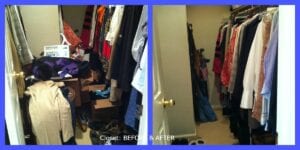 As part of this closet makeover, all clothes and boxes were removed.  I then created zones of work suits, work pants, work skirts, blouses, jeans, etc. and arranged the items from dark to light.  All wire hangers were removed and replaced with slimline hangers to maximize the space and keep clothes looking nice.  The client can now easily get dressed in the morning without having to search through a cluttered closet looking for the right outfit.  Project Time: approximately 2 hours.
Playrooms often become dumping ground for anything and everything.  This space served as a project, guest, hangout, library, and storage room.  As the needs of the kids and family changed, the space no longer served them.  We got rid of the clutter, collected items for donation, relocating items to the other rooms of the house where they needed to live, and then set up systems that allowed the kids and the family to use and enjoy the new space.  Project Time:  3 hours.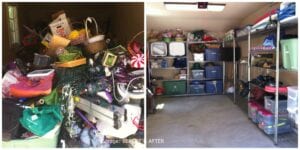 I know many people can relate to this garage.  A garage can easily become a dumping ground for all things you don't know what to do with or don't have the time deal with.  I had my team of haulers remove everything from the garage and then worked with the client to sort the piles into recycle, donate, trash, and keep.  The "Keep" pile was then further broken down by zones and containerized as needed.  My team put together the sturdy and adaptable shelving units and then we loaded the shelves with the appropriate items.  The unwanted items were hauled away and a cleaner, more organized and functional garage remained.  Project Time: 8 hours
Cluttered spaces can be overwhelming and leave you feeling like you don't know where to begin.
If these makeovers have not inspired you, contact More Time For You for a complimentary consult.  We'll transform your space from a BEFORE to a WOW!!