Every space is different and sometimes standard out of the box bins and baskets won't solve your clutter problem. In my love of all things organization related, I often find unique products as well as unique uses for products that can be just the organization solution(s) you need.  These are just a few of my favorites!
Align Stapler – Corralling your paperwork and kids' school work can be problematic. This handy stapler is not limited by it's length. With a unique detachable base you can use it on poster board, large reports, kids' artwork, and more.
Cordies – Cordies keeps unruly cables and wires organized and weighted down on your desk, preventing disconnection from your precious digital life! This compact and helpful contraption includes five rubber grips with four slots, taking care of all those loose ends.
Like-It® Bricks – With its adaptable design and durable polystyrene construction, the Like-it® Bricks provide an organization solution for deep drawers and cluttered shelves. Stack and slide the bins on one another for easy access to the contents and keep like items separated with colorful, repositionable dividers. It's the answer to organized office supplies, packaged snacks, cosmetics, and more.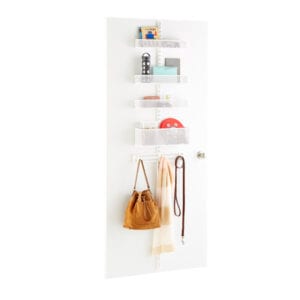 Elfa Mesh Drop-Zone Door & Wall Rack Solution  – Grab & Go! The innovative, top-rated Elfa utility Door & Wall Rack system makes the most of often-wasted vertical space on a door or wall and is totally customizable! The Drop Zone solution includes baskets that can be easily repositioned to fit your changing storage needs. A utility board with ABS hooks is a sophisticated, functional update on the classic pegboard system for storing jackets, purses, umbrellas – even the dog's leash. Even the smallest entryway can accommodate this organization solution. The door and wall rack is completely customizable and can be designed for all types of spaces and items: closets, pantries, gift wrap, bathroom supplies, etc.

Zen Cosmetics Holder – Featuring a unique silicone base that accommodates tools of varying sizes, your make up or art brushes are within easy reach on a counter or in a deep drawer. Its grippy silicone base holds it in place while your must have tools are a grab away!

Thirty One Double Duty Caddy – This handy caddy is a great solution for school and art supplies, crafts, mail, car or cleaning storage. A variety of outer mesh pockets and inner deep pockets, you can store a lot of items. Offered in a variety of fabrics, it's not only functional, it's attractive as well.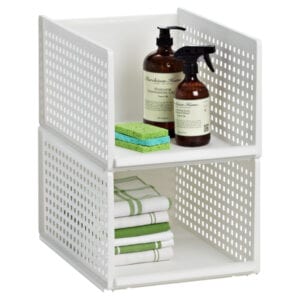 Like-it® White Modular Bins – The innovative Like-it® Modular Bins are engineered to be stacked together in virtually any combination! Combine the modular components vertically or horizontally to organize any area of your home. Some of my favorite organization solutions use them to hold items on the top shelf in a closet (e.g. purses, bulky sweaters, or other items that often tip over) or to make the floor space in a pantry or closet functional (e.g. garbage bags, large bottles of juice or water, etc.).
Photo of Zen Cosmetics from Amazon